Additional Bt20 billion rice boost 'may not be enough'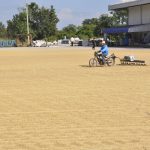 While welcoming the government's decision to subsidise the rice trade by another Bt20 billion, paddy growers and analysts on November 1 said the move might be too little and short-term to tackle problems in the entire system.
The Rice Policy Management Committee on November 1 increased its budget to help farmers sell paddy Hom Mali, or jasmine, rice at Bt13,000 per tonne, up from the previous agreement of Bt11,525 per tonne. Commerce Minister Apiradi Tantraporn said the upward revision of the subsidy was due to the government's aim of stimulating the market price to help farmers. Under the additional subsidy, the government is expected to spend another Bt20 billion over the previous budget of Bt35.9 billion. The subsidy measure is designed to only help paddy farmers growing Hom Mali rice, allowing them to delay selling rice during the harvest season when the price will be low.