An elemental difference has developed among those concerned for wetland conservation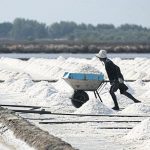 If this year's severe drought returns next dry season, Uncle Wai Rodtayoy and other salt farmers in tambon Koek Kharm of Samut Sakhon, known as the country's largest sea-salt-farming area, will see mounting debts. The price of salt this year bottomed at 450 baht per cart while to stay afloat, farmers need at least 1,500 baht per cart. Usually, drought means low production for other agricultural products. Not for the sea salt farming. Two consecutive years of scorching drought have led to the overproduction of sea salt — known as klua sin thao — and brought down the price.
Unfavourable climate is just one of the problems, for Uncle Wai has something bigger to worry about: salt farming is facing the threat of extinction. As is the case in many provincial areas, young people in his district prefer to find work in offices, or sell online products — in short anything less labour-intensive and that makes more money.