Australian and Thai journalists found not guilty of defaming Thai navy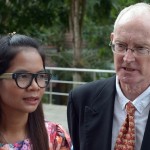 An Australian editor and his Thai reporter colleague were found not guilty on 1 September of criminal defamation for reporting on the alleged involvement of Thai naval officers in the trafficking of Burmese Rohingya refugees.
"We're delighted. It's such a wonderful day for media freedom and Thai justice. When the judge read out the verdict there was a huge sense of relief. And there was a round of applause when we left the court house," Alan Morison, editor of independent news website Phuketwan, told the Guardian on the telephone.