Authorities charge Chinese man with illegally transporting Cambodians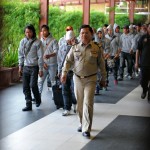 Cambodian human trafficking authorities have charged a Chinese national with attempting to illegally transport 18 men to work in China in what one government official said was the first such case of trafficking Cambodian men to the country.
Anti-human trafficking police, who are part of the Cambodian National Police force under the Ministry of the Interior, charged Liang Ziasheng with attempting to traffic 18 Cambodian men, said Keo Thea, bureau chief of the Phnom Penh Municipal Anti-Human Trafficking and Juvenile Protection Office.
Liang tried taking the Cambodians out of the country on tourist visas, but authorities stopped and questioned them at the Phnom Penh airport, he said.