Bail set at $10k for 11 Letpadan activists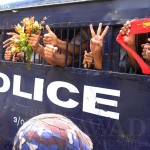 Bail has been granted to 11 activists detained after a brutal crackdown on student demonstrations earlier this year, family members said, while five other requests were denied by a court in central Burma.
A hearing culminated with the decision to release 10 students and one supporter of the protest movement on the condition that each detainee can provide proof of at least US$10,000 worth of assets held by no more than two guarantors, according to San Win, the father of detainee Ye Wint Aung. The 11 prisoners will be released from Tharrawaddy Prison in Pegu Division on July 14, he said.