'Bangkok 14' temporarily released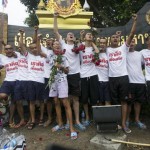 The 14 students who rallied against last year's coup were released temporarily from prison in Bangkok Wednesday morning and vowed to continue their protest.
The temporary release followed the military request to extend their detention pending investigation of their defiance of the government's ban on political gatherings. The student activists had been behind bars for 12 days after being arrested June 26.