Burma sentences Chinese nationals to life for illegal logging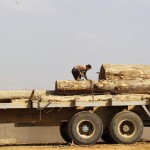 China has lodged a diplomatic protest with Myanmar after a court in the southeast Asian nation sentenced 153 Chinese nationals to life imprisonment for illegal logging.
China's voracious demand for Myanmar's raw materials has fuelled resentment in Myanmar towards its giant northern neighbor.
Regions along Myanmar's porous border with China have long been hotbeds for an illegal trade in timber to feed Chinese demand. Much of Myanmar's jade is also believed to be illegally smuggled into China.