Business group airs union law concerns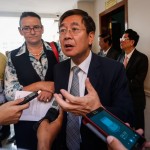 Some of the country's top business leaders laid out their main concerns with a controversial draft union law during a meeting with CPP lawmakers on 18 January, including a stipulation that would let only 10 people form a union at a workplace.
The bill, which would set new rules for how unions are formed, run and dissolved, has taken fire from unions and employers alike, especially those in the country's $5.8 billion garment industry. The International Labor Organization has also raised concerns with provisions that would violate Cambodia's international treaty obligations.