Cambodia: NGO law tweaks mulled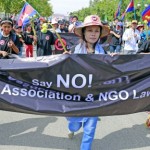 Government officials have agreed to reconsider elements of a proposed NGO law, but ruled out further public consultation on the widely criticised legislation, signalling a final vote would be held soon.
The promise to review some provisions came during the government's first public workshop on the proposed bill since 2011 – held 8 July – and was later backed at a meeting between three parliamentary commissions in the afternoon, according to a government official.
Interior Ministry Secretary of State Sak Setha said the proposed Law on Associations and Non-Governmental Organisations (LANGO) would be sent back to the heads of relevant ministries for further talks.