Cambodia to stay young as region ages: report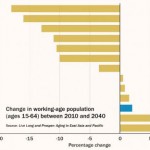 Ageing populations will hit Asia hard, but younger, poorer countries like Cambodia will buck the trend for several decades, the World Bank found in a massive demographic study released on 9 December.
While working-age populations will shrink 10 per cent in countries like China, Thailand and Japan by 2040, Cambodia will see a 2-3 per cent boost in its prime working-age population.
World Bank economists said Cambodia and fellow young nations like the Philippines must use this time to improve skills training and employment levels or be stuck getting "older but not richer" in the future.