Census data could 'shatter' transition stability, says official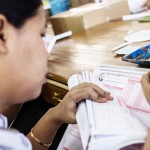 Census data held back last year is still too sensitive to release, officials say. Though the initial results of the 2014 census were released in August of that year and a more detailed statistical picture was made public in May 2015, information about religion and ethnicity was kept under wraps.
At the ceremony held in Nay Pyi Taw last May to mark the release of the main findings of the census, immigration minister U Khin Yi said further discussions would have to take place with ethnic leaders over unspecified "problems" before those data were released. It was understood at the time that the remaining information derived from the census would be released early this year.