China responds angrily to life sentences for illegal loggers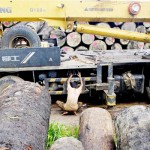 Beijing hit out at long jail sentences handed to more than 150 Chinese nationals for illegal logging in Myanmar, in the latest tremor to shake relations between the neighbours.
The mass sentencing, which has sparked outraged editorials in Chinese state-run media, comes after the loggers were arrested in January during a crackdown on illegal forestry activities in northern Kachin State, which borders China.
Beijing's foreign ministry spokesperson Lu Kang said in a statement on the ministry's website that it has asked Myanmar to "deal with this case in a lawful, reasonable and justified manner … and return those people to China as soon as possible".