Chinese dam builder in Myanmar cuts food aid to protest-backing families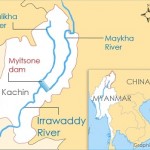 China Power Investment Corporation (CPI), builder of the controversial Myitsone Dam in Myanmar's Kachin State, has cut off food assistance to at least two families—among hundreds displaced by the project—after they backed protests against the dam.
The two families were from Aungmyinthar village, one of two villages residents were relocated to in 2010 and provided food aid in a bid to make way for the planned Myitsone Dam.
But CPI recently cut its supply of rice to the two families after they backed a protest march in March against any resumption of work on the dam, which had been shelved by President Thein Sein in 2011 following warnings that it was a threat to the environment.