Costco sued over claims Thai shrimp harvested with slave labour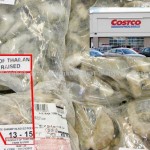 Costco Wholesale Corp was sued for selling farmed shrimp from Thailand, where slave labour and human trafficking in the fishing industry are widespread, and allegedly misleading US consumers about it.
A California woman, Monica Sud, filed what may be the first such lawsuit against the retailer over liability for the Thai fishing industry. She cited state laws that bar companies from making false claims about illegal conduct in their supply chain, including human rights violations.