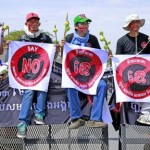 More than 300 civil society representatives, diplomats and opposition members have attended a consultation to voice concerns over the controversial draft NGO law, a parliamentary vote on which was reportedly delayed until next week.
The national consultation, organised by the Cooperation Committee for Cambodia (CCC) and held at the Cambodiana Hotel, coincided with yet another march on parliament by hundreds of opponents of the legislation.
The draft bill – which the government says is needed to regulate the sector and stop rogue operators – was again criticised for placing undue restrictions on NGOs and undermining civil society's role in the Kingdom.