Displaced families face fresh hardships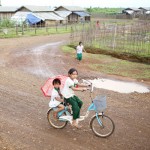 A 'model village' built by the government offers little improvement in living standards for several hundred families displaced by conflict in Kachin State.
Ngwe Pyaw, which means "wealthy village" in Myanmar language, was founded in May 2014 as a pilot resettlement site. But it is wealthy in name only: The 283 displaced families here struggle to get by due to its isolation, and lack of fertile farmland and livelihood opportunities.