Farmers welcome long-overdue rain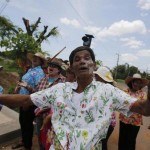 Long-awaited rain fell over four drought-struck provinces overnight and during the day, reviving withering rice crops but only slightly raising hopes of the upcountry regions coming out of the crisis.
While rice farmers in Surin, Maha Sarakham and Phayao were grateful for rain replenishing their crops, villagers in other provinces are still struggling with water shortages. In Chaiyaphum the situation is so severe that officials have been forced to stop supplying tap water at night.