Farming bivalve molluscs for export favourable in Vietnam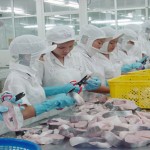 Raising bivalve molluscs for export is currently a promising potential for Vietnam as global markets have a growing appetite for the product and the total domestic farming area could be enlarged, many insiders have said.
Data from the Directorate of Fisheries show that the bivalve mollusc farming area in Vietnam is currently over 150,000 hectares, mostly in coastal provinces of the Red River and Mekong Deltas. The area could theoretically be expanded to more than 200,000 hectares.