Final peace deal eludes Myanmar Government and armed ethnic groups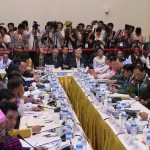 The latest round of peace talks between Myanmar's government and armed ethnic groups ended 24 July without finalizing a nationwide peace accord, due to disagreement over the exclusion of six rebel groups and ethnic-proposed amendments, negotiators said.
The Union Peace Working Committee, the government's negotiating team, failed to agree on the number of armed ethnic groups that will sign the final nationwide cease-fire agreement. The government wants to sign the accord with 15 groups.