Forest land-using projects required to plant new trees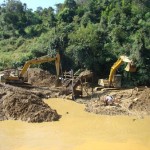 Any projects using forest land in the future must include, once put forward for investment approval, a feasible report on the plan to plant new trees and to allocate a specific land fund, said Deputy Prime Minister Hoang Trung Hai.
During an online conference of the State Steering Committee on forest protection and development plans with localities yesterday in Hanoi, the deputy PM strongly asked related localities and bodies to thoroughly grasp this issue.
"If a project fails to meet the requirement, it will be considered as not ensuring sustainable development goals and is not feasible," said Hai.