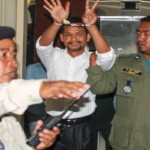 Eleven opposition activists, including a US citizen, were handed lengthy prison sentences yesterday for their roles in a protest at Phnom Penh's Freedom Park last year that turned violent and left dozens injured.
In a decision that came as a surprise to many, judge Lim Makaron ruled that the Cambodia National Rescue Party members were guilty of trying to foment an "insurrection" by taking part in a demonstration led by CNRP lawmakers at the public square on July 15, 2014.
"The 11 activists were sent to jail after the lawyers boycotted the trial today," Sam Sokong, lawyer for the defence, said after the ruling.
He added that the lawyers had boycotted the proceedings because the court had called for the trial to resume on a daily basis.