From ambulances to funerals, volunteers prop up Myanmar healthcare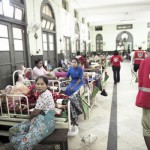 Volunteers prop up many aspects of the Myanmar healthcare system.
This culture of self-reliance is partially a legacy of the military era where vast spending on defence came at the expense of health or education.
While budgets have increased since 2011's end of outright army rule, Myanmar – the world's fourth-fastest growing economy – is still one of the lowest spenders on healthcare as a share of GDP.