Furniture fair raises profile of Lao wood products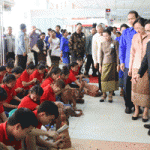 The Lao Furniture Association hopes that the furniture fair, which opened in Vientiane on 14 January, will attract more domestic and foreign investors in the sector and promote Lao wood products on regional and international markets.
The Lao Furniture Association on 14 January officially opened its 2nd Lao Wood Furniture Fair at Lao-ITECC. The ceremony was attended by Prime Minister ThongsingThammavong, Minister of Industry and Commerce Ms Khemmani Pholsena, Vientiane Vice Mayor Dr Anouphab Tounalom, other government officials, representatives from the private sector, and foreign ambassadors to Laos.