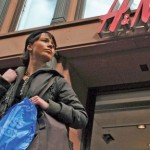 The widespread use of short-term contracts in Cambodia's garment industry has come under fire in a new report, which looks at ongoing issues with the practice at H&M supplier factories amid pledges of reform.
A Short-Term Solution, which was released by Swedish NGO Fair Action, uses interviews with workers producing garments for the mega-brand to illustrate how fixed duration contracts (FDCs) can be used to exploit and intimidate.
Despite apparent efforts from H&M to address the issue, workers from three of its supplier factories in Cambodia said FDCs had led them not to exercise rights such as taking sick leave or refusing overtime.