In meeting with election body, NLD complains of voter verification 'obstruction'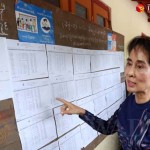 The National League for Democracy, Burma's main opposition party, complained of obstruction from some sub-commissions as NLD cadres have sought to ensure an accurate roster of eligible voters ahead of the general election.
Representatives from the NLD said Union Election Commission officials pledged to address the party's concerns at the UEC's headquarters in Naypyidaw, where the two sides met to discuss an ongoing effort to verify the personal data of more than 30 million eligible voters in Burma.
Tun Tun Hein, who heads up the NLD's voter list reviewing committee, told UEC officials that the party had encountered resistance to its voter list verification drive in townships from Naypyidaw and Mon State to the capital of Karen State, Hpa-an.