In Myanmar, a rising exodus but no trafficking arrests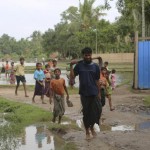 Tens of thousands of Rohingya have fled Rakhine since the start of the year, joining perilous journeys on the boats of human traffickers through the Bay of Bengal.
But local officials say no one has been arrested for trafficking in the Myanmar state that supplies the vast majority of victims to this brutal trade.
"There have been no trafficking cases in Rakhine State so far (this year). There is a police unit to track down human traffickers, so it's very rare in this area," Hla Thein, the Rakhine State Attorney General said.