In the Mekong Delta poorest homes, education takes a back seat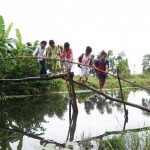 Poverty and a lack of parental support have forced many children in the Mekong Delta to drop out of school and face a very high risk of falling deeper into poverty.
Many children in An Giang Province sell lottery tickets or earn money from casual, low-pay jobs on the streets instead of sitting in class, Tuoi Tre reporters found during a recent visit. Most of them stopped going to school after ninth grade and started helping their parents make a living.