Jailed Myanmar fishermen arrive home from India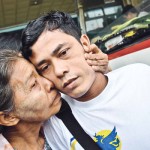 More than 120 Myanmar fishermen arrested by the Indian navy for illegally plying India's waters were returned to Myanmar last week, a government official said.
U Aung Kyaw, deputy director of the Department of Relief and Resettlement, said on 10 July that the return of the 123 fishermen was the first in two years.
"All have served their sentences of about three or four years in India that were negotiated government-to-government," he said. "We are not taking on the fishermen who have not finished their sentences. When the men have served their sentences, the Indian government informs the Myanmar embassy and at that point we can collect the men from Port Blair in India," he added.