Cambodia: LANGO changes 'too little'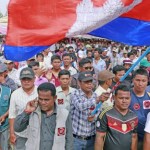 The government yesterday confirmed four changes to the controversial NGO law in response to widespread criticism; opponents, however, say the edits are insignificant and the legislation remains a "severe violation" of Cambodia's constitution.
As protests over the law continued yesterday in Phnom Penh's Freedom Park, ministers from the Justice, Finance, Interior and Foreign Ministries as well as the Council of Ministers met to revise the draft, which will tomorrow be submitted to the National Assembly's standing committee ahead of a final vote, slated for early next week.
According to Interior Ministry secretary of state Sak Setha, the group endorsed four changes in response to Tuesday's public consultation, which the opposition Cambodia National Rescue Party walked out of in protest.