Lao authorities charge woman with 'slander' for alleged extortion photos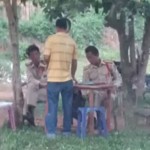 Authorities in Laos have formally charged a young woman who has been detained since May after a photo she took was posted on Facebook, allegedly showing police officers extorting money from her brother during a stop for a traffic violation, according to an official source.
Phout Mitane, a 26-year-old resident of Xayaburi province, will be charged with "slander" and faces up to 18 months of jail time if convicted, a high-ranking official from the ruling Communist Party's central committee told RFA's Lao Service, speaking on condition of anonymity.
The photo prompted a storm of criticism from other Facebook users who criticized the officers for abuse of power and corruption.