Lao authorities free woman detained for alleged extortion photos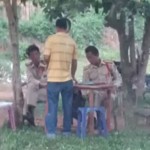 Authorities in Laos have released a young woman who had been detained for more than two months after a photo she took was posted on Facebook, allegedly showing police officers extorting money from her brother during a stop for a traffic violation, according to a source that is close to her family.
Phout Mitane, a 26-year-old resident of Xayaburi province, had been facing charges of "slander" for the photos, but was freed last week after an investigation of her case proved her "innocent" of personally posting them to Facebook, said the source, who spoke to RFA's Lao Service on condition of anonymity.
"Phout was released on 4 August and fined 1 million kip (U.S. $125)," the source said.