Lao congress sets course for exit from LDC status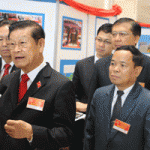 Ensuring that Laos graduates from Least Developed Country (LDC) status in five years' time has been the focus of discussion at the 10th Party Congress, a Party leader has said.
Party Politburo member and Deputy Prime Minister Mr Somsavat Lengsavad highlighted this fact when speaking to the media on 20 January on the sidelines of the ongoing congress.
"The most important outcome of talks at the 10th Party Congress is our determination to ensure that our country sheds its least-developed status by 2020," he said.