Laos: New farming methods suited to climate change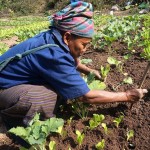 Poverty and scarce food supply was just a fact of life for the people in Koutou village, Luang Namtha province, Laos. With most people relying on rice farming and livestock for their livelihood, there were few options for other income.
Koutou is one of 13 villages in Vieng Phoukha district where The Lutheran World Federation (LWF) started an empowerment project that promotes human rights in January 2015. To improve living conditions for the villagers, the LWF conducts vocational training and workshops in vegetable planting, bio extract manure production and composting to promote small income generation programs and improve farm yield in order to provide nutritious food and income.