LGBT activists petition National Broadcasting Commission over media's offensive language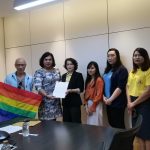 A representative of the Foundation of Transgender Alliance for Human Rights (Thai TGA), along with other independent LGBT activists, has submitted an open letter to the National Broadcasting and Telecommunication Commission (NBTC) in response to the recent use by several media outlets of the term "sexually deviant" in news headlines.
After it was reported on 30 June that a male teacher had been accused of sexually assaulting a male student, the Loei Provincial Education Committee issued a letter instructing 475 schools in the province to "closely inspect teachers with sexually deviant behaviour." The story was subsequently reported by several media outlets, such as in News1 and PPTV, using the term "sexually deviant" in the headline and content. On Thursday (11 July), a group of LGBT activists, led by a representative of the Thai TGA, submitted an open letter to the NBTC, saying that such reporting violates basic ethical principles and organization guidelines for the accuracy and standardization of broadcasting and telecommunication professionals, since it violates the principles of human rights and of hate-free communication.