Mekong Delta farmers warned climate change to affect livelihood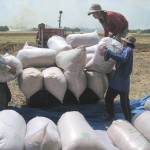 If there are no reasonable solutions to adapt to climate change, Mekong River Delta residents will have to scale down their agricultural production in the near future, or go bankrupt because of lack of materials for production.
The warning has been repeatedly given by experts at recent workshops and official conferences.
Nguyen Phuong Lam quoted a World Bank report as saying that if the sea water level rises by one meter, the rice field areas in Mekong River Delta would decrease by 2 million hectares in 40-50 years.