Migrant deadline passes in Thailand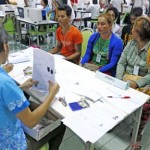 Cambodian, Burmese and Laotian undocumented workers descended on Thailand's one-stop service centres for visas and work permits before the closing deadline, as Thai authorities yesterday signalled a crackdown on illegal labour.
More than 100,000 Cambodian workers in Thailand could face arrest and deportation after the deadline for reapplying for a work permit extension came and went.
The Thai government had previously pushed back a March 31 deadline, giving undocumented workers until June 30 to extend their work permits for a year, in which time they were expected to be issued passports by their respective governments.