Myanmar sets historic general election date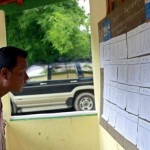 Myanmar will go to the polls on 8 November in its first open general election in 25 years, officials say.
Reform in Myanmar has been under way since 2010 when military rule was replaced by a military-backed civilian government.
The ruling USDP faces a head-to-head contest with Aung San Suu Kyi's National League for Democracy. She won elections in 1990 that were scrapped. Dozens of other parties are also expected to take part in the vote.