Parasite blamed for fish deaths in Sihanoukville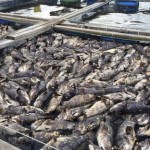 Fish farms in Sihanoukville have lost an estimated 100 tonnes of fish to an aquatic parasite infestation in the past five days, Fishery Administration officials said on 1 December.
The parasite, known as "marine velvet" or Amyloodinaum Ocellatum, feeds on fish tissue – giving it a powdered look – while releasing toxins. According to Europe PubMed Central, marine velvet is "one of the most serious ectoparasitic diseases plaguing warmwater marine fish culture worldwide".