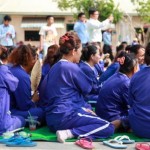 Cambodia's badly overcrowded prison population leapt by nearly 20 per cent in the first 10 months of this year, government data show, raising serious health concerns.
The figures, released by the Interior Ministry's general department of prisons on 15 December, show that there were 17,522 prisoners in jails across the country at the end of October, compared with 14,780 in detention in December 2014, an increase of more than 18 per cent.
In September 2014, a report from rights group Licadho pegged the nation's prison occupancy rate at 179 per cent of capacity.