Seventeen laborers walk home to Cambodia after being trafficked in Thailand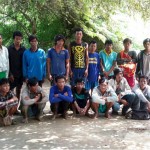 Seventeen laborers from Cambodia have returned home after they were trafficked to work in Thailand's logging industry and had their pay withheld, forcing them to walk back to the border, a rights group said on 2 September.
The 17 had been lured into Thailand with promises of well-paying jobs, but ended up cutting timber in Chonburi province, Sum Chankea of Cambodian rights group Adhoc told RFA's Khmer Service.
"They walked several hundred kilometers because they didn't have any money for transportation," said Sum Chankea, who is provincial coordinator for Adhoc in Banteay Meanchey province.