Shelling sends civilians fleeing in Shan State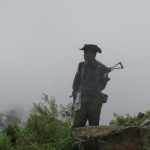 More than 100 people from Kaung Kha village in Muse Township have fled their homes after artillery shells were fired into the settlement on 13 July, reportedly leaving one person dead and two others injured.
The displaced villagers told The Irrawaddy that the artillery bombardment began at about 10 am and stopped sometime in the afternoon. The villagers have sought shelter at nearby Namtaw village and say they dare not return to their homes amid reports that the Burma Army is occupying the village.
La Seng, one of the affected villagers, said one man was killed in the shelling and a husband and wife sustained injuries and were taken to hospital in the town of Muse for treatment.