'Slave' fishermen not all trafficking victims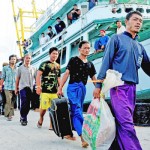 The return of hundreds more Myanmar fishermen found in slave-like conditions in Indonesia could be in jeopardy.
The Ministry of Foreign Affairs said the embassy in Jakarta separated the rescued men into two different categories: trafficking victims and non-trafficked "slaves".
The 91 who have been identified as trafficking victims are being fast-tracked for repatriation, while homecoming for the other 247 may be "delayed" until funding can be found for them, a senior official at the embassy said.
The government began a series of highly public repatriations – many funded by private corporations – following an Associated Press investigation in March that documented thousands of mostly Myanmar fishermen marooned on remote Indonesian islands.