Snow envelops northern Vietnam as weekend temperatures plummet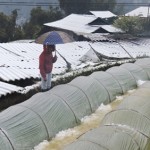 Many northern provinces have been experiencing bitter cold, while snow has been falling heavily in many areas across the northern mountainous region due to a strong cold spell that has enveloped almost half of the country since 23 January.
Snow blanketed Sa Pa in the northern mountainous province of Lao Cai and temperatures plunged to minus 5 degrees C on 23 January night, the lowest temperature in years. The temperature at Sa Pa was measured at 0 degrees C on 24 January morning.