Special Report: Inside Thailand's trafficking crackdown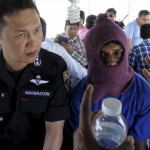 Thai police continue to investigate trafficking in south Thailand, following the discovery of scores of jungle graves on the Thai-Malaysia border in May.
Yet there are questions about the long-term effectiveness of Thailand's crackdown on resilient and lucrative trafficking syndicates.Witnesses have been intimidated, police say. Key suspects are represented by lawyers with powerful political connections. And while 72 people have been arrested, police are still seeking many others.
Thailand's investigation comes ahead of a new U.S. report card on its anti-trafficking efforts, due out in mid-July. Police spearheading the campaign on the ground told Reuters they encountered official indifference about the evidence they had gathered on trafficking networks.