Thai customs seize 511 pieces of elephant ivory destined for Laos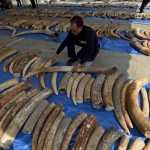 More than three tonnes of elephant ivory have been found at a Thai port stashed in a container shipped from Kenya, customs said on Monday, the second huge haul of tusks from Africa in less than a week.
The discovery, which would be worth millions of dollars on the black market, was destined for Laos where the illegal ivory trade flourishes.
Some 511 pieces of ivory was found on 25 April in a container "marked as tea leaves transported from Mombasa, Kenya, and on to Laos", Thai customs said in a statement.
Scores of whole tusks – some nearly two metres long – were among the pieces seized.