Thailand forcibly sends nearly 100 Uighur Muslims back to China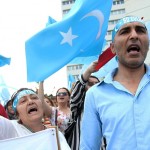 Rights groups and the United Nations have condemned Thailand's decision to fly nearly 100 Uighur Muslims back to China, warning that the Turkic language-speaking, largely Muslim minority would face persecution and abuse.
The UN high commission for refugees said it had previously been given assurances by Thai authorities that the group would receive protection, and that the group had indicated that they did not wish to be deported.
A spokesman for the Thai government said Bangkok and Beijing had worked together "to solve the Uighur Muslim problem" and that China said it would look after their safety.