Towards Effective Advocacy in Mekong Region with Data Literacy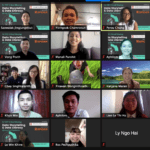 The Open Development Initiative (ODI) first began working with our constituents on data literacy in 2019, with a 3-month data literacy programme for journalists in Myanmar. Since then we have localized our Data Literacy Curriculum, adapted from the World Bank Certificate Program, to meet the needs of specific groups, such as forestry advocates, educators, women's networks, and Indigenous Peoples in Cambodia, Thailand, Vietnam and Laos. On June 14th, 2021, ODI hosted its first virtual meetup for the Mekong region on "Data Storytelling and Literacy during the Pandemic". In this event, we engaged CSO participants of ODI's data literacy programming to use COVID-19 data to creatively explore the impact of the pandemic on the Mekong region, using data storytelling.
Data storytelling is one of the key techniques used by the ODI. Telling a data-driven story uses data and visuals combined with a narrative to more effectively communicate insights and foster action. It requires up-to-date and accurate data. The narrative ties the visualizations together, acting to highlight trends and key changes, supporting decision-making processes. Effective data-driven storytelling can spearhead cultural change and inform a solution to tackle pressing problems.
However, the Mekong region sees some key challenges impacting the usability of data storytelling. These challenges, highlighted by participants of the 2021 meetup, include issues around data quality and availability, data skill, and access to both data and technology.
For instance, data sources are typically questionable in terms of availability, timeliness, and quality. Government data requires improvement to be digitally accessible, and accountability and transparency issues need to be addressed to make data trustable. Civil society users are limited in skill, especially in terms of analysis, and critical thinking is necessary to improve data literacy. Accessibility issues underlie emerging tools and technologies, as they are typically made available only in English; localized versions of tools are necessary to help civil society understand how to use the tools. Finally, access to technological devices (laptops, phones) and infrastructure (electricity, internet connection, cellular connection) is still limited. These issues require support so that an enabling data ecosystem and environment can be created.
The ODI originally developed the multi-language open data portal, "Open Development Mekong" to increase the data ecosystem in the region. It is intended to increase evidence-based decision-making by making reliable and accurate data available. During this challenging pandemic period, the ODI has worked to increase the usability of the portal by scaling up our training approach with grassroots-level participants, especially women and marginalised groups, to ensure that this data works for the stories that matter to them.
You can view the recorded meetup here: https://www.youtube.com/watch?v=e6256Gx-Xnc
Visit the page of data literacy programming in the Mekong region.
 Open Development Initiative (ODI)