Uighurs sent back from Thailand were on way to join jihad, says China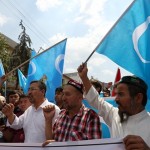 More than 100 ethnic Uighurs deported from Thailand to China had been on their way to Turkey, Syria or Iraq to wage holy war, China's official news agency has claimed.
On 9 July, Thai authorities sent back the 109 Uighurs,who had been in Thailand for over a year and claimed to be Turkish. The repatriations were criticised by the UN refugee agency as "a flagrant violation of international law." Rights groups expressed fears that they could face torture.
China's official Xinhua agency said on 11 July that the 109 illegal immigrants had been on their way "to join jihad", and that 13 of them had fled China after being implicated in terrorist activities.