Verification program begins but most migrants frozen out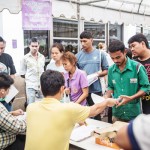 Immigration teams from Myanmar have arrived in Thailand to conduct a long-awaited nationality verification process meant to regularise the status of over half a million workers caught in immigration limbo.
The current plan involves sending out newly arrived representatives from the labour ministry, immigration department and Myanmar Overseas Employee Agencies Federation to all 77 districts of Thailand, according labour officials.
With the help of local guides, the teams hope to conduct a door-to-door survey to establish the passport eligibility of over 660,000 Myanmar workers and their dependants who hold temporary Thai residency cards known as a "pink cards".
But problems with the strategy already abound.