Vietnam's forest protection law falls short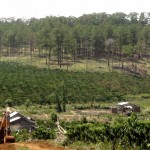 Vietnam's Law on Forest Protection and Development has become backwards and exposed numerous disadvantages, after more than 10 years of implementation, a senior official from the Vietnam Forestry Administration (VNFOREST) has said.
Deputy director of the VNFOREST, Nguyen Ba Ngai, made his comment at a workshop held last week by the VNFOREST, in collaboration with the Forest Land Network.
The workshop reviewed 10 years of working with the forest protection and development law, reported on findings from social organisations and presented recommendations to improve the law.